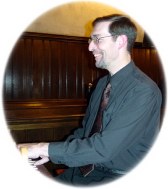 Robert Grandy studied music locally and then later at York University. He has atttained the degree of Colleague (CRCCO) with the Royal Canadian College of Organists, receiving the highest marks in Canada that year. He is presently Director of Music at Trinity United Church in Peterborough.
Mr. Grandy has had a long relationship with the Oriana Singers as a chorister, as music director, and currently as accompanist. Over the past few years he has turned his attention to composition. Many of his choral works have been sung by the choirs of St. Mark's, by MusicMakers, and by Oriana Singers.
His choral composition "Advent Antiphons", had its premiere performance by Oriana Singers and St. Peter's Handbell Ringers at our November 2000 Advent Concert and his short anthem "Prayer for Peace" opened our November 10, 2001 concert of Remembrance. "The Lamp of Poor Souls", composed in June 2002 as one of four anthems using texts by Marjorie Pickthall, had its premiere performance in our October 2002 concert. In 2003, he composed an anthem in celebration of the 70th Birthday of Canadian composer Ruth Watson Henderson. This was premiered by a massed choir including the Oriana Singers at a special concert of Ruth's music. That concert also included two new organ compositions on two of Ruth's hymn tunes.

In 2004, he was commissioned by the Oriana Singers to write three short choral works for their April 2005 joint concert with the Woodstock Fanshawe Singers. The three pieces are "The Paradise of God" (SATB, a cap); Arbor Amoris; and "The Vine" (both SATB, piano)